Details

Category: Engine / Driveline
PRW Industries, a leading manufacturer of high performance engine components, is excited to announce three new valve covers for Ford FE applications, model years 1958-76 and for engines 332, 352, 390-428.
Vintage racers, competition junkies, and machining enthusiasts trying to save weight: Give your engine the edge. Crafted from 6061-T6 aluminum alloy, these valve covers have successfully endured rigorous testing, proving that they are built to last. The incredible ability to withstand the harsh elements of racing makes these the perfect solution for street rod and racing applications. They are individually pressure-tested. Fasteners included. Offered in silver anodized, polished clear anodized, and black anodized finishes. Contact PRW for additional details on these parts and ask about custom engraving at (866) 264-8835. Visit:https://www.prw-usa.com/products/valve-covers/ford .
Details

Category: Engine / Driveline
If you're interested in a Chevrolet LS9 638 HP 6.2 V8 crate engine, (19244099 ) GM is offering a $2,000.00 Visa gift card as an incentive. This is the same V8 found in the ZR1 Corvette.

The extra $2k definitely makes the engine a little more attractive!

Email / Call at 314.783.8325 us for special pricing on the engine and more info!
Read More for engine details!
Details

Category: Engine / Driveline
The Original Doug's Headers announces the release of a new Long Tube Race Style header for the new Ford Coyote 5.0 motor swaps in 1964-1973 Mustangs, 60-65 Falcon's, 66-67 Fairlane's, and 67-68 Cougars. These headers were designed to be used with front IFS conversions kits from TCI or similar designs. They are designed to work with either standard 6 speed manual transmission or the 6 speed select shift automatic.
3/8" thick Flanges and 1 ¾" tubes with a 3" collector that feature a Stainless V Band clamp system give these headers the High Quality that you have come to expect from Doug's. They come standard with a polished high luster heat and corrosion resistant Metallic Ceramic Coating for a rich appearance and long life. These headers come complete with reducers, 1100º F rated gaskets and premium installation hardware. Headers can also be ordered uncoated. Header kits come complete with Premium Quality Gaskets, Special Design Header Bolts and Washers, as well as the 02 Sensor extensions.
Part # D6651
Details

Category: Engine / Driveline
C&R Performance now offers the 1967-70 Mustang owners a true high performance cooling system for the 5.0 Coyote & small/big block engines. With features such as cross flow design, Spal dual 11" fans, billet radiator cap, thread in inlet and outlets allow for slip on hose or optional AN fitting to be used. Model shown here as optional engine & power steering coolers. Will also be available without oil coolers and with a transmission oil cooler. Perfect for crate engine swaps. Also features a very unique mounting system that is not clearly visible and uses factory upper core support mounting holes which offers a very clean and tidy fitment. Engineered and handcrafted in the USA.
Details

Category: Engine / Driveline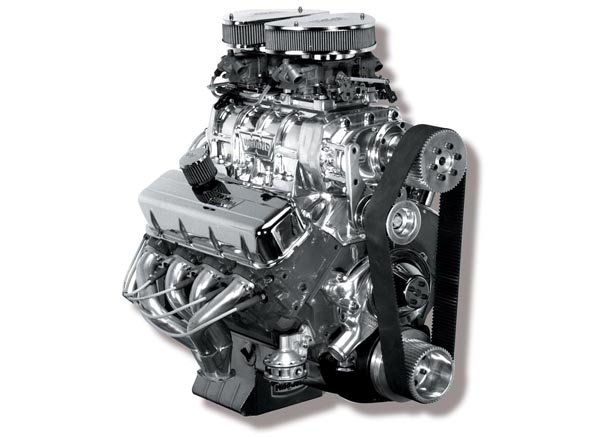 If it's maximum power you are looking for, check out the 8-71 series! Built utilizing all new cases, end-plates, manifold and snout and reconditioned GM 3 lobe rotors for peak performance under demanding, high RPM conditions. 8-71s are engineered to produce 10-12 lbs of boost on small blocks and 5-7 lbs on big blocks (depending on application and engine efficiency).
These superchargers are for the hard core enthusiast! All 8-71 marine kits are equipped with the extra tough 8mm (two piece billet snout) belt systems for durability while on the street or water. They will accommodate 2 "V" belt pulleys. All kits can be used with some marinized engine accessories, but may require extensive modifications to bracketry or mounting locations.
All superchargers are built in Weiand's state-of-the-art manufacturing cell and each supercharger is 100% boost tested to help you squeeze out maximum power & efficiency.
Details

Category: Engine / Driveline
Anvil now offers carbon fiber valve covers for popular domestic V8 engines, like these for GM LS series engines. These CAD designed, 100% carbon fiber valve covers are made in the U.S.A. by Carbon Fiber Innovations using a proprietary method that produces the best valve covers on the market. The carbon fiber shells are bonded onto aluminum frames for the ultimate strength and rigidity. Benefits over ordinary stamped steel or cast aluminum valve covers include: Low heat transfer, lightweight, rigid, killer looks! See more at http://www.anvilauto.com .
Details

Category: Engine / Driveline
When you purchase an Eddie Motorsports S-Drive Serpentine Pulley System, one part number gets you everything you need to fully accessorize the front of your engine. The kits will equip your engine with an ultra-reliable, single, six rib serpentine belt system that is easy to install and they are absolutely stunning to look at.
Eddie Motorsports has recently introduced their newest S-Drive Serpentine Pulley System for Big Block Mopar engines 383-426-440. The compact drive systems are American made and come complete with all of the necessary billet aluminum pulleys and mounting brackets that are CNC machined from 6061-T6 aluminum by Eddie Motorsports in their Southern California manufacturing facility. The Mopar S-Drives are the cleanest looking systems on the market and utilize a single spring loaded tensioner to keep the serpentine belt properly tensioned at all times; there is no need for multiple, unreliable, idler pulleys to clutter up the assembly.
Details

Category: Engine / Driveline
Nothing is easier than bolting on a carburetor. Holley's dual plane carbureted intake for GM's LS Engines will help you get on the streets quick! Its dual plane design makes it perfect for low end torque, yet it still pulls all the way to 6,500 RPM! Our O–ring cylinder head mounting flange gaskets provide an OEM style seal and make installation a snap. Bolt one on today!
Installation Notes
Fits all GM LS Gen III or IV engines equipped with LS3/LS92 style rectangular port cylinder heads. Includes mounting bolts & washers as well as pipe plugs for Manifold vacuum and MAP sensor ports.
NOTE: These Dual-Plane Intake Manifolds are NOT legal for sale or use on engines with pollution controlled equipment.
Details

Category: Engine / Driveline
For engine builders, and enthusiasts with ambitions in hot rod engine assembly, Jon Kaase has introduced the Boss Nine in a new kit form.
Among the kit's more prominent components, Kaase includes his noted semi-hemi cylinder heads with accompanying pistons, pins and rings as well as pushrods, shaft-mounted rockers and induction system. Everything to complete the full assembly is supplied.
Though power production may vary from 500 to 1,000hp in naturally aspirated form and up to 1,500hp under forced induction, it is the engine's evocative appearance and heritage that heightens its universal appeal. Predictably, options abound and powder-coated cast valve covers are available in silver, red and black. Indeed, in any color that can be indentified by a paint code. In addition fabricated sheet metal covers are offered in natural aluminum finish.
In performance the Boss Nine's magic is ignited by increasing its stroke length from the original late-nineteen-sixties specification of 3.590in. "Those big-port heads," contends Kaase, "don't like stroke lengths shorter than 4in., and respond enthusiastically to 4.150in, 4.300in or 4.500in, all of which we use."
Because the longer 4.500in stroke causes the piston to protrude from the cylinder at bottom dead center, Kaase recommends a Race block or a "79" block, which has a 0.250in longer cylinder wall. Produced from 1979 to the mid-'90s these can be identified by the nomenclature D9 on the block's external surface. "They're robust," declares Kaase, "and we have one at the shop. It is 0.030in over-bored with 2-bolt main bearing caps and has taken the abuses of fourteen years of dyno testing. It usually generates between 900 to 1,000hp and we've used it on all Boss Nine and P-51 tests—it's still going strong."
Details

Category: Engine / Driveline
Edelbrock is excited to begin shipping the highly anticipated E-Force Supercharger system for the C7 Corvette Stingray. The all-new design increases the stock 6.2L LT1 (Gen 5) engine up to an impressive 624 flywheel horsepower and 600 ft-lbs. of torque.
This supercharger incorporates the Eaton® Gen VI 2300 Twin Vortices Series (TVS) rotor assembly, as well as an air to water twin intercooler system and dual core heat exchanger. Performance has been optimized through a unique runner design and an integrated bypass valve that helps reduce parasitic loss under light throttle, which improves gas mileage potential. All of this technology fits under the stock hood without modification to the hood, hood liner or cowl.